This article has been updated with the latest information.
Thousands of Hongkongers ignored a police ban and staged a candlelight vigil at Victoria Park to commemorate the victims of the 1989 Tiananmen Square Massacre on June 4 evening.
Hong Kong Alliance in Support of Patriotic Democratic Movements in China, the organizer of the annual rally since 1990, lit the first candles at around 6:30 p.m. local time near a water fountain at the park, before entering the park's football pitches despite barricades set up by local authorities.
Police had banned the event, citing concerns about the spread of the CCP virus.
Members of the alliance were soon joined by hundreds of locals, despite the presence of riot police officers at roads near the park.
Hong Kongers flock to Victoria Park to honor #TiananmenMassacre anniversary with a candle light vigil – despite government's cancellation of the annual event for the first time in 31 years. pic.twitter.com/8ad4VZTfyp

— The Epoch Times Hong Kong (@EpochTimesHK) June 4, 2020
The vigil officially began at 8 p.m. local time. A moment of silence was observed for the victims at 8:09 p.m.
Unlike the vigil of past years, people did more than remembering the victims. They also took the opportunity to voice their demands as part of a local pro-democracy movement that began in June last year.
People shouted slogans such as "Free Hong Kong, Revolution of Our Times," "Vindicate June 4," "End One-Party Dictatorship," and "Opposition Against the National Security Law," referring to new legislation recently imposed by Beijing. Many expressed fears that the security law would enable Beijing to clamp down on dissent.
"Glory to Hong Kong," the unofficial anthem of the democracy movement, was also played at Victoria Park. Some people waved placards with the words, "The Heavens Will Destroy the Chinese Communist Party."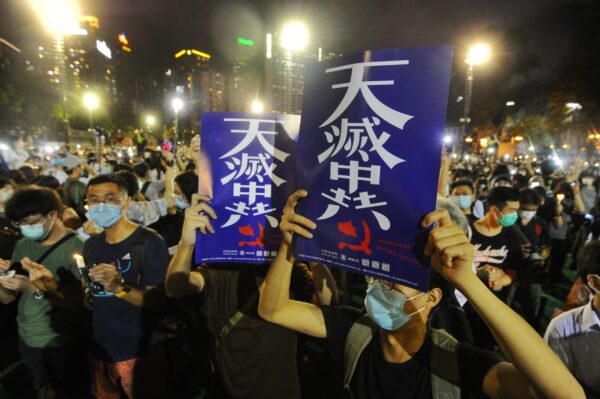 Hongkongers also staged remembrance events in other parts of the city. At around 8 p.m. local time, over 200 gathered near the Sai Ying Pun metro station, where Alan Leong, chairman of the pro-democracy Civic Party, also participated, according to local media HK01.
At a cultural center in Tsim Sha Tsui, about 100 people held candles and laid down flowers to remember the dead, according to local media RTHK. Local district councillor Michael Mo was seen among the group.
There were small gatherings across Hong Kong, including Sai Kung, Tuen Mun, Yuen Long, Tsing Yi, Mong Kok, and Central, according to local media.
At about 8:40 p.m. local time, Lee Cheuk-yan, the alliance's chairman, announced that the vigil was over and asked people to show up again next year.
At around 9 p.m., after people threw debris on the road following a vigil in Mong Kok, plainclothes police arrived and subdued several individuals, while deploying pepper spray, according to RTHK.